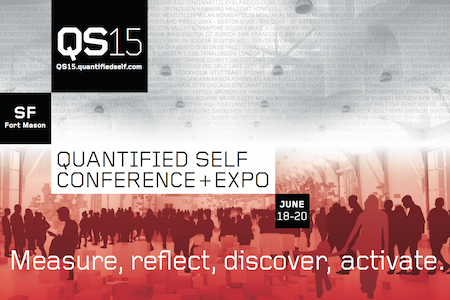 Today is the first day of the Quantified Self conference! And Beeminder is a minor sponsor. How excited are we about this? My cofounder and I are each giving a talk, we're leading a breakout session, and holding Beeminder "office hours". And we're presenting Beeminder at the Expo on Saturday.
But wait, there's more! On Sunday, June 21st at 1pm, we're having a Bay Area Beeminder meetup. In a park.
Here's a list of things you'll be especially interested in if you're the kind of person who reads the Beeminder blog:
Today (Thursday, June 18)
Friday (June 19)
Breakout session: Productivity Tracking and Commitment Contracts (i.e., Beeminder)
In parallel with the above: Gamification of Self-Improvement, with Mark Moschel
Me (dreeves) on Frictionless Tracking with Beeminder Autodata
Office hours: Beeminder
Also check out the talk and office hours for Whatify, a new tool for randomized self-experimentation
Saturday (June 20)
This is the expo, where we're doing a how-to session on Quantified Self plus Commitment Contracts at 12:30. And check out our friends at RescueTime at noon. I'm also excited to see the screening of a new documentary about the US women's olympic cycling team at 3pm.
Sunday (June 21)
Bay Area Beeminder Meetup! With special guest Nick Winter!
1pm at Main Post Lawn:
103 Montgomery St
San Francisco, CA 94129
UPDATE: There are 2 "103 Montgomery St"s so make sure to navigate to "Main Post Lawn" in the Presidio.
Can't wait to meet more of you in person!
Final note: It's too late to get into the conference if you're not here already, but we have a few free tickets for the expo for devoted readers who make it to the end of our blog posts. The code is "beeminderfree". When those run out you can use "beeminder10" to drop the Expo price to $15.
And the Beeminder meetup on Sunday is free.