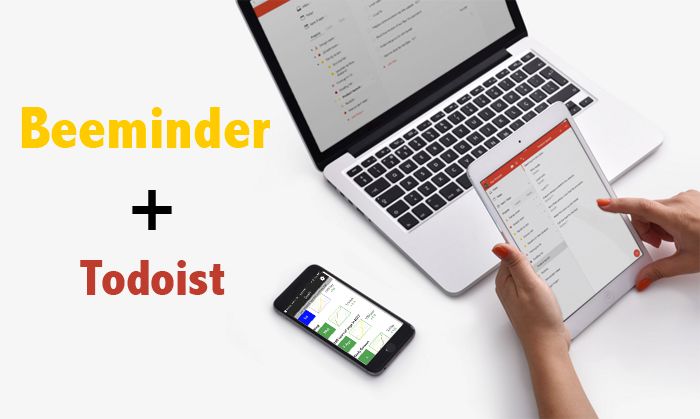 Picking the right way to organize your to-do's is a big decision. Paper & pencil, smartphone app, calendar, blank playing cards, or the old "in your head" method. [1] A lot of folks use Todoist. While Todoist is fantastic for keeping track of your to-dos, if you combine it with Beeminder, you can use it to ensure that you actually cross those things off in a timely manner!
(Ready to get started and want to skip all this chit chat? beeminder.com/todoist)
Up until now users have been able to connect Todoist to their Beeminder accounts through IFTTT, and users have done that 596 times, but today we're launching direct Todoist → Beeminder integration. The integration will keep track of any to-do items you've checked off, sorted by project or label. If you don't complete enough items to stay on your yellow brick road, we'll charge you money.
Today is our official launch of this new integration, but a few folks have been beta-ing it behind the scenes for us. Thus far, it's a hit. As one Todoist and Beeminder fan said, "I love it! This is huge!"
The Todoist integration is a big deal for folks that are already using Todoist, but it's also a great jumping off point for creating lists for goals that you found hard to automatically beemind before. By combining the magic of Todoist and the force of Beeminder, you can create a list for a specific goal and give yourself extra incentive to complete those tasks!
Examples of things you can beemind using Todoist:
Make a list of all the great places you want to eat in a "Restaurants list", and make it a goal to try one new restaurant every month (or you pay up!)
Keep a list of books to read (you can add them to Todoist anytime since it's mobile-friendly), and beemind reading one book each month
Got a huge project or report to write? Using the Todoist sub-tasks feature, create an outline with sections broken down as sub-tasks, and beemind writing one section each week
Ready to get started?

Footnotes
[1] We're big fans of Todoist, but if you use a different to-do list manager, you might want to check out the Beeminder integration with IFTTT, which allows you to integrate with Toodledo, Meistertask, and Wunderlist (using Wunderlist's email feature). We're also directly integrated with Trello, Complice, and Habitica, if those are your prefered to-do managers!