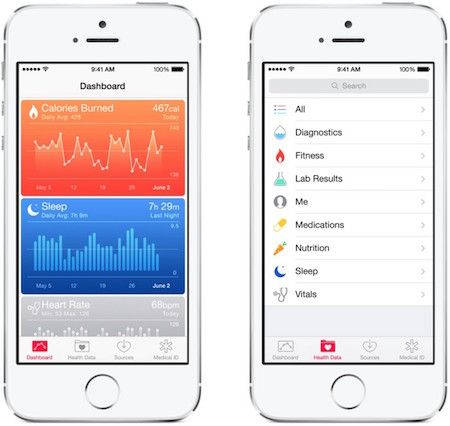 If you have a minute to add a rating or review for the new versions we'd be really grateful! Releasing a new version wipes out the previous ratings, so we're starting from scratch.
The Beeminder iOS app just got a long-overdue update, and it includes two sorta-huge new features!
Apple Health integration
The first big feature is that you can now sync your data from the Apple Health app to a Beeminder goal. To set it up, first create the new goal (you'll either want Do More or Weight Loss). You can do this from the app — it will open mobile Safari, so there will be a lot of pinching and zooming for now [1], or on the desktop website. Once you have your goal created, tap the settings gear from the main screen of the app. You'll now see a line for "Health App integration". Tap the goal you just created, and then the metric you want to track. After the goal is paired, it should fetch the last 7 days of data from the Health app and add those datapoints. [2] You may want to adjust your road to match the slope after they've been imported.
The app is designed to update the goal in the background as you're walking around doing your activities, but there are a couple caveats. The first is that the update can only occur if the phone is unlocked. So if you do a bunch of steps with your phone in your pocket, but don't open it before you go to bed, you won't see those steps until you unlock your phone the next day. That's normally fine — the app actually updates the last seven days of data each time it syncs, in order to not lose data from previous days. And if you have a beemergency then Beeminder will be hounding you so you'll know to unlock your phone to let the latest data through.
The second caveat is that sometimes the background update isn't as real-time as you might like. You do some steps, check your Beeminder goal, and no new data. But it seems like you really have to be watching closely to have this happen. And you can always force a fetch of the latest data just by opening the Beeminder app.
So it's probably OK if you're skimming this post and missed both of those caveats.
Today widget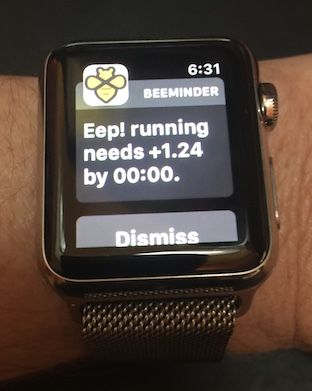 In a scientific poll conducted last week, 100% of the people sitting in the chair next to mine had no idea what a Today widget even was. Hence the educational blog post! If you swipe right from the home screen, iOS shows a number of widgets, each associated with an app on your phone. At the bottom there's a button called "Edit" that shows all the widgets available to you from apps you've installed. If you add the Beeminder widget, it will show you your most urgent goals each day, along with how much you have to do in order to stay on track for them.
As of this update, you can also add data directly from the widget, as long as the data you're adding is an integer (keyboard input isn't allowed by iOS in the widgets, but you can tap the stepper to update the value). Super handy for binary goals where the input is always a "1" to indicate you did the thing that day.
GTBee
You may remember GTBee from such blog posts as "Get Things Done (Or Else!) With Beeminder and GTBee". It also got an even-longer-overdue update recently, and now lets you choose any starting amount of money you want to put at risk. So if you want to charge yourself $1,000 if you don't finish your thesis, GTBee can help you out with that. There's a few other improvments as well, such as a UI that fits all screen sizes (did I mention this update was long overdue?).
To be clear, GTBee is a totally separate iOS app that's meant to be a dirt simple alternative to Beeminder. It's just a to-do list app that will automatically charge you (it assumes you have a Beeminder account for this) for not getting things done by your chosen deadlines.
In conclusion, shiny new app updates for iPhone people! Widgets with quick data entry, slightly slicker and more flexible GTBee, and most importantly, so many metrics to automatically beemind, thanks to Apple Health. In fact, here's the whole list, which we'll update as we add more (suggestions solicited!):
Steps
Active energy
Exercise time
Weight
Cycling distance
Walking/running distance
Nike fuel
Water consumed
Time in bed
Time asleep
Swimming strokes
Swimming distance
Mindful minutes
Stand hours
UPDATE: We added #8-14 thanks to your suggestions! Keep them coming!
UPDATE 2018: We had a bunch of problems with syncing Time Asleep and Mindful Minutes but believe them to be fixed with version 5.1 — keep letting us know (support@beeminder.com) if you're seeing problems!
Footnotes
[1] Mobile-friendlier goal creation is coming soon!
[2] We've heard a couple bug reports about data being duplicated at this step and I'm investigating what could be happening. Keep letting us know!