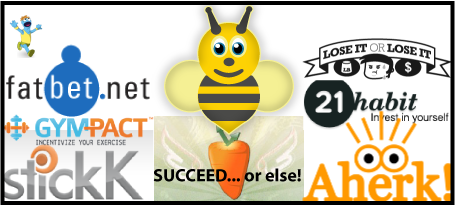 [UPDATE 2023: We're continuing to keep this list up to date (see the "On the Horizon" section for the very latest). Let us know in the comments if there are any competitors we've missed!]
I just blackmailed myself [1] with a silly photo [2] thanks to our competitor [UPDATE: former competitor; see graveyard below] Aherk.com, who [used to] publish "compromising" photos of you to Facebook if you didn't pony up (i.e., get shit done). I guess it will show up on my facebook page. (This photo is not actually compromising; I just want to get the full Aherk experience, minus the mortification. I'm not actually too keen on Aherk's angle.)
Aherk [was] one of several Beeminder competitors getting a lot of press lately. Since our last post was singing praises of other trackers, we thought we'd follow that line to its logical conclusion and catalog other anti-akrasia tools as well. Here are the others we know of. Hover over the links for trash talk.
On the Horizon
UPDATE: When we come across something new we stick it here. These typically launch and then immediately become moribund — but not always! If you can vouch for any of these, let us know!
Maybe Moribund aka "I'm not dead yet"
UPDATE: The following may have a foot in the grave. Or maybe they've achieved exquisite perfection. Either way, they haven't been updated in years. Founders of these: just holler (or tweet or blog something) if you're still kicking!
Graveyard
UPDATE: We're keeping this post continually updated as we learn about new competitors and moving any that are not currently operational to this graveyard (which is not to say they can't come back from the dead!).
Sushi and Green Fields
It's funny how we once thought of it as worrisome to see other startups pursuing our idea. It's so clearly the opposite of worrisome! The more the merrier! All these startups are helping each other get the public exposed to commitment devices.
It's like my brother who [had] a sushi restaurant in central Illinois with one primary competitor in town. Since most people in town haven't even tried sushi, most of the marketing that my brother's competitor does is just creating new sushi eaters, some of whom will then presumably eat at my brother's restaurant. Anecdotally, that effect dwarfs any actual customer stealing that the competitor may do.
With Beeminder and StickK and now Aherk and others, it's like that but even more so: 99% of the population hasn't heard of a single one of us!
PS: We've learned of a newcomer about to launch on Monday, by the founder of the Programmable Self movement. We'll add them to this list then! [And done. It's Run Or Else and their logo can be seen sprinting in from the upper left corner of our logo collage.]
Footnotes
[1] To get the Beeminder API published in January. (Note: A rudimentary version is available now as a private beta, subject to us grilling you a bit!) UPDATE: Voila: the Beeminder API.
[2] UPDATE: I originally referred to it as a "gay photo" which I thought was kosher since I clarified that I was not using "gay" pejoratively nor do I equate "gay" with "compromising". Sense was quickly knocked into me (thanks everyone!): steer a wide berth around the kinds of things bigots say and don't rely on wordy explanations to counter a first impression!
Here's the original version of the first paragraph, if you're curious:
I just blackmailed myself [1] with a gay photo thanks to our competitor Aherk.com, who publishes "compromising" photos of you to Facebook if you don't pony up (i.e., get shit done). My photo isn't NSFW or anything. It's not even embarrassing. Ok, fine, it's actually entirely innocuous and I'm intending to cause it to get released, just to see how that part works. I guess it will show up on my facebook page. (As you'll see, you might call it gay, sort of, but obviously I see nothing compromising about that. I'm not actually too keen on Aherk's angle.)