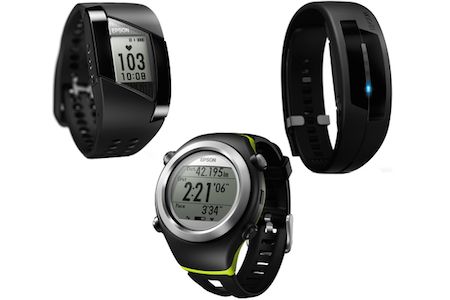 Another official integration! We're so proud to be one of a handful of launch partners for Epson's entry into the Quantified Self / wearables market: Runsense and Pulsense. As a welcome to Epson users new to Beeminder, we'll start with our usual recap. For Beeminder regulars who don't already know about Epson's fitness trackers, we summarize those as well. If you're already sold on both separately, start using Beeminder and Epson together!
Beeminder Reprise
You're probably here because you either know and love Beeminder, or you're using an Epson Runsense or Pulsense device. Since this is Beeminder turf we'll start with a quick explanation of what Beeminder's all about. (For the full Beeminder story, you could start with our inaugural blog post about akrasia and self-binding, a.k.a. commitment devices.)
What's special about Beeminder is that we combine Quantified Self — of which Runsense and Pulsense are exemplary — with commitment contracts. If you don't know anything about commitment devices, it works like this with Beeminder: We plot your progress along a Yellow Brick Road to your goal and if you go off track, we charge you money. Long-time Beeminder users find that those stings (get it?) are well worth it for all the awesomeness we induce the rest of the time. But if the thought of having to pay money is too scary, that's perfect: you'll be very motivated to keep all your datapoints on your yellow brick road. We don't even ask for a credit card until the first time you go off track. If you never do go off track, Beeminder is free forever.
Runsense and Pulsense
If you're a Quantified Self nerd, which, reading this blog you probably are, then here's what you'll want to know about Epson's new devices. There's one Runsense device, the round-faced watch in the title image, and it uses both GPS and an accelerometer to measure your pace and distance for running. We've used an early demo version a bunch and it's great. The battery lasts many days if you use it as a watch and lasts pretty much all day with the GPS on.
"(Bee)mind steps or time asleep for Pulsense, and distance or time run for Runsense"
There are two Pulsense devices and both track your heartrate (with no chest strap — just from your wrist!) as well as steps. In our experience the continuous heartrate monitoring is very impressive, more accurate than an early version of Basis we tried.
Beeminding Fitness
Beeminder helps you keep on track with your training and makes sure that you'll still be using it in a month's time. With Pulsense, you can measure the number of steps, so you can make sure you're keeping active and walking, say, ten thousand steps every day (on average). With Runsense you can track time and distance spent running. You can create Beeminder goals for any of these, giving you extra motivation: a commitment that you'll stick to, complete with graphs of your progress which will show you, for example, how far you've run and how far you need to run again today to keep up with your goal.
Recap: Beeminder currently supports minding the following metrics: Steps or time asleep for Pulsense, and distance or time run for Runsense.
Getting Started
You authorize Beeminder to read your Epson data and then tell us how many steps per day or hours of sleep per night or miles or minutes of running per week you want to commit to. That's really all you need to know to get started!