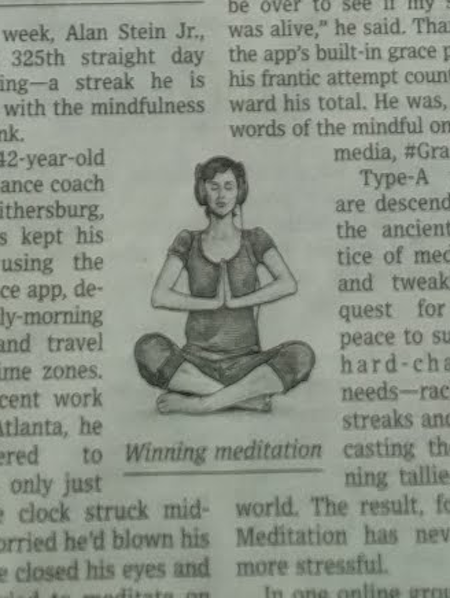 Guess who's covered in the Wall Street Journal again! You're very good at guessing. It may not count as the front page this time (unlike last time) since this front page article doesn't start talking about Beeminder until after the jump. Also we're about to demonstrate how little sense of humor we have in our next blog post in which we explain why the article (about how type A nerds are ruining the Ancient Eastern Art of meditation by gamifying it) is All Wrong. But for now we'll just bask in the prestige of being written about in actual old-timey print.
And then while we're at it, here's a roundup of the rest of the Beeminder buzz from around the internet since the last time we did this. I hope we're not starting to sound like we're protestething too much or anything but this is honestly everything we came across, good and bad. There just happens to be no bad because apparently we're that darn lovable. (Seriously, step it up, haters! We really like arguing.)
[UPDATE: We remembered where all the haters are: YouTube comments.]
Actually, ironically, today's Wall Street Journal article is the most negative thing we know of this time.
But without further ado, here's the rest of the press roundup! (Things in bold have our noteworthiness / "worth your time to click on" endorsement. Or hover over the link for the gist.)
Whew. Thanks everyone! Let us know if we missed anything, and also if you're in the above list because we'd like to send you stickers and probably be your new best friends.