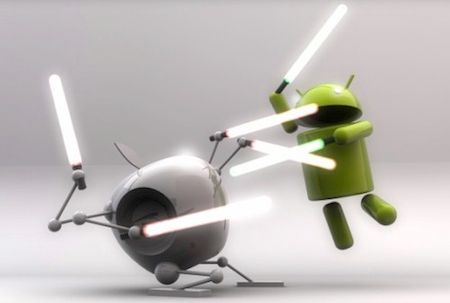 We're excited to announce that starting today, you can stay on top of your Beeminder goals wherever you are. We've just released Beeminder apps for both iPhone and Android. Get them here:
Or click/touch one of these screenshots:
Here's what these apps let you do:
Create new goals
Add data points
Dial your Yellow Brick Road to change difficulty
See your goal gallery with countdowns to derailment
See goal details and graphs
Create new Beeminder accounts
The Android app also has a few additional features:
Home screen widgets to track goal progress
Notifications when you're about to derail
Full data point history (no editing of historical data within the app yet)
Support for multiple existing Beeminder accounts
Both the apps have been months in the making and have been vastly improved thanks to our vigilant beta testers. (Thanks in particular to Shane Lindsay, Alice Harris, Sohum Banerjea, Dwayne Melancon, Tom Corcoran, Sean Mahoney, Manuela Hutter, Paul Fenwick, Peter Haake, Danielle Lovell, Philip Hellyer, and everyone on Akratics Anonymous.)
We have Uluç Saranl? to thank for the Android app. Danny and Uluç were roommates in grad school, and worked together in the Michigan Artificial Intelligence Lab building killer robots, or whatever they do there. So it wasn't hard to convince Uluç to get back to his coding/hacking days and actually deliver some code, eventually spending about 300 hours on the app, and finally learning Java in the meantime. His favorite feature of the Android app would have to be a tie between the notifications (simpler is better sometimes [1]) and the home screen widgets that get in your face like Rocky Balboa's trainer on Thanksgiving Day. Danny and Bethany use the Android version constantly and vouch for it being super useful.
Andy Brett is the mastermind behind both the iPhone app and this blog post. The app was recently described as "the most beautiful app ever to grace my home screen" by an anonymous participant in a recent IM conversation. It also wasn't hard to convince him to work on the this project, but recently it has been difficult to get him to stop ogling screenshots. This was his first foray into the world of Objective C, so he now has a love-hate relationship with Xcode. His favorite feature of the app is that it saves the last datapoint you entered as the default value for next time. It makes entering "1,000" every day on his pushups goal super easy.
Both apps were built using the Beeminder API. So if you don't like our choice of font, color palette, or kerning, you can go jump in a lake build your own! We're collecting all of the people and apps using the API, so take a look and let us know if you should be on the list.
Footnotes
[1] Funny story about scrapping the original version of cleverly escalating and recurring reminders. Automated harassment is a hard, and highly susceptible to wolf-crying problems. We ended up going back to the basics — one notification when you go into the wrong lane and one at the "panic threshold", which is customizable in advanced settings on the website.
Image credit: One Click Root