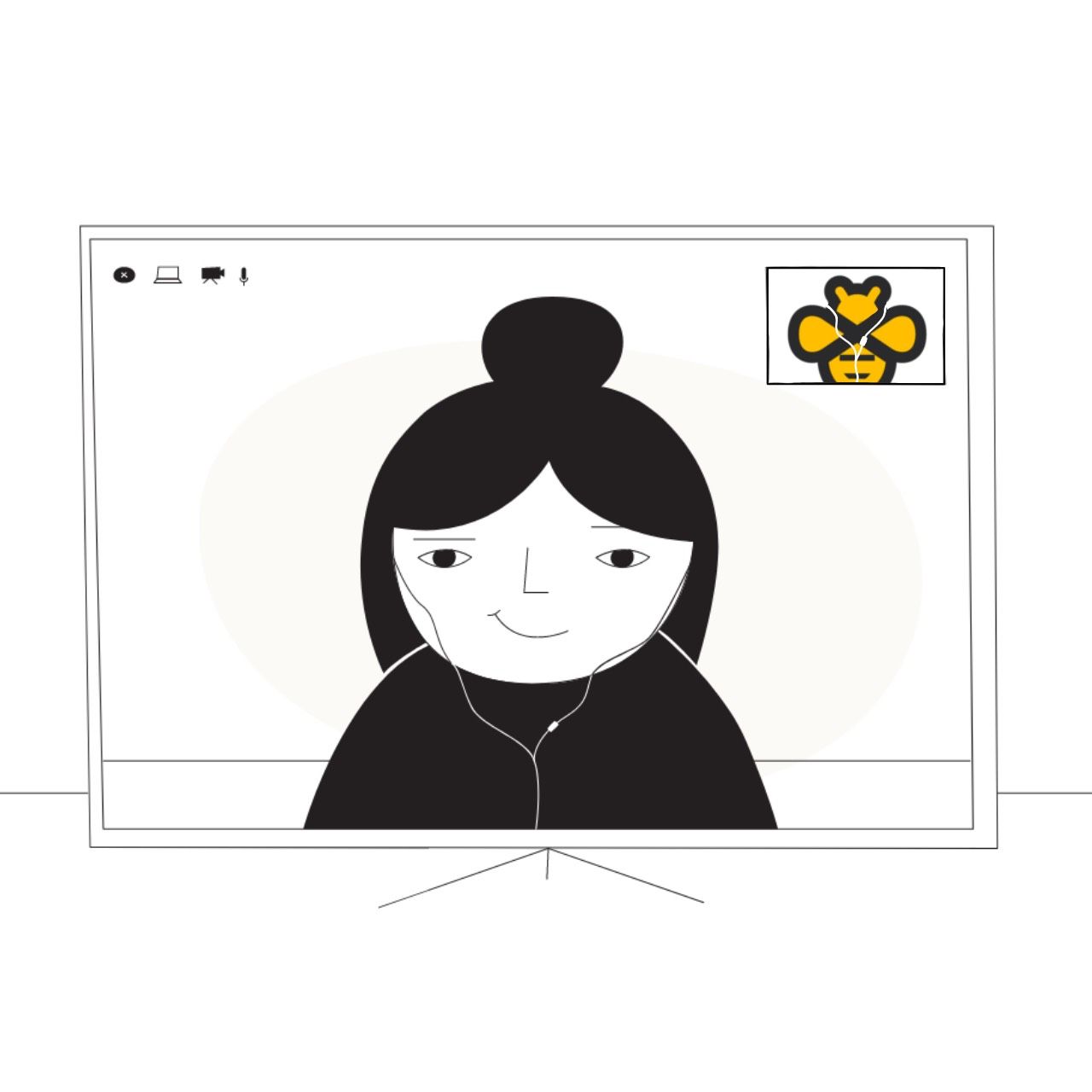 Announcement! Beeminder and Focusmate are officially integration partners! Beeminder's Support Czar, Nicky, is here to tell you about it! See also the announcement on Focusmate's blog as well as the Beeminder Community group on Focusmate.
Being a big fan of both Beeminder (obviously!) and Focusmate, I'm pretty excited about this one, and I know a lot of Beeminder users will be too. That's right: Beeminder now has an integration with Focusmate!
A recap on Beeminder
In case you've followed a link here from the Focusmate universe and don't know about Beeminder, let's start with our Beeminder pitch.
Beeminder allows you to visualise data you collect about yourself with our graphs, while also serving as a commitment contract. You choose something you want to commit to — for instance, running three times a week, or perhaps doing two Focusmate sessions a day! — and we create a graph for you.
The Bright Red Line on that graph shows you what you need to do to meet that goal (your data always needs to be on the right side of that line)… and if you fail at that commitment, we charge you an amount of money you put at stake. Once you've set up a commitment contract via creating a graph, you're on the hook for at least the next seven days: no backing out on the spur of the moment!
One of our most powerful features is our range of integrations which enter data in your graphs automatically. You don't have to remember to do the task and go put it into Beeminder, you just have to go ahead and do the thing and we'll pick up the info via the integration and update your graph for you.
That's really convenient, and at the same time, getting data from our integrations means your goals are already very clearly defined, so there's no opportunity to fudge it. With a Duolingo-linked goal, for instance, there's no opportunity to say "Well, I did ten minutes of language practice this morning when I read that forum thread in French!" That might well have been great practice, but Beeminder's unforgiving: you have to get your 20 points in French on Duolingo in order to complete the goal.
An intro to Focusmate
That much is all familiar to Beeminder fans, but what about Focusmate?
Well, have you ever noticed how when you're working with someone else, you feel pressured to keep focused as long as they are? If they're still typing away writing the next great novel, then you need to put in your time on your coding or your studying or whittling down your inbox.
Focusmate faciliates that via video calls: once signed up, you book a 25- or 50-minute session. You'll get matched up with another Focusmate user, and the two of you both show up at the appointed time ready to work. You introduce yourself quickly, set your goals, and then get to it, and the whole time you can see each other on camera (and potentially hear each other on mic if you're both able to do that, i.e. you're not in a busy place or anything). Just like working next to someone else in a library or a coffee shop, you have that pressure to keep on working, because at the end of the session you need to explain how you got on with your goals.
It's not a social call — you're both there to work. The idea is that the presence of someone else who is hard at work acts as accountability, and so does the check-in at the start and at the end. And in my experience, having to explain to someone else what you have to do also helps you come up with clear goals and use your time wisely!
Why beemind it?
I've been using Focusmate for months, and I find it powerful for all kinds of tasks. I've had sessions for doing my chores (yep, it quickly becomes obvious when I'm playing Solitaire rather than dusting my bookshelves), handling emails, studying and, yes, even writing this very blog post! I've also used Focusmate for things that are maybe less obvious: during my summer break, I used it to enforce time spent just reading and relaxing. No devices (once the session started), no stopping to check my email, no distractions.
I've even had Focusmate sessions where my goal was simply to touch as many of my Beeminder goals as possible, no matter what they're about — my 5-pages-a-day reading goals, physiotherapy exercises, reconciling YNAB, …
But no matter how powerful and versatile the tool is, you need to remember to use it, and to get the most out of it, you probably need to use it consistently. That's where Beeminder can come in! If you have a goal set up to do a session every day, you know you need to book in a session and log in pretty much every day (give or take, since you can build up buffer or set breaks) to spend a session getting stuff done.
We're pretty confident that:
a) Beeminder is really useful for people who are using Focusmate to get stuff done, because we allow you to quantify, track, and visualise your progress on all kinds of goals;
and
b) Focusmate is going to be really powerful for Beeminder users! There are so many different ways you can use a 25- or 50-minute session to help you meet your goals, whether that's your morning routine, your language practice, or even your meditation goals.
Okay, how does it work?
It's pretty simple! Assuming you have your Beeminder account all set up, then hit the "Create new goal" button. In the list of integrations, click on the Focusmate logo. If you've never created a Focusmate goal before, then you'll need to authenticate with Focusmate in this step. Just click on "Connect to Focusmate", and then click "Allow" on the next page, and that'll be all set up.
Next, you need to choose the number of sessions you want to do in a given time period, and you can also choose to start with some extra leeway so you don't have to begin right away. After that, pick a goalname and type in a description of the goal if you want to. Set up your starting pledge and pledge cap on the next page, and then you can check out the preview of your graph. If anything looks wrong, hit back and change it now, but otherwise, hit continue, check your payment details are right, and then hit "Finish". Congrats, you've got a Focusmate goal set up!
The goal will automatically update with a new datapoint at the start of each Focusmate session, so you just need to book your sessions, turn up, and get stuff done! We'll handle the rest.
Beemind your focus, mates!
PS: Focusmate has created a Beeminder Community group on Focusmate. If you join that group, you'll preferentially be matched with others who have joined it. Hooray for Schelling Points!