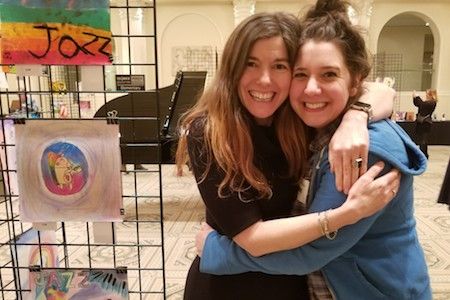 Special guest post by Beeminder superfan and real-life friend, Kim Harrison, the Director of Education at PDX Jazz. We're glowing with pride to read how one of our dear friends values us (well, and Beeminder) so highly! We're extra verklempt. Especially since Kim is one of the most productive and effective people we know. When we met her we were helping a mutual friend move. She was working 4 jobs, and finishing school, and she still showed up to carry boxes. So we're impressed to know that there's still room for Beeminder to improve the life of someone who eats to-do lists for breakfast. At 5am. Before a training run.
I just completed one of the biggest projects of my life: a jazz art event for over 500 students from the Jazz in the Schools program and several hundred of their biggest fans. It involved multiple community partners, a team of volunteers, a radio interview, 250 works of art, a grand piano, and every bit of my brain power. I am proud to say the event was a success. I am exhausted, relieved, and overwhelmed with gratitude for my awesome coworkers and volunteers. Amazingly, I also still have friends and a partner who remember what I look like. My teeth are still shiny white, my fitness improved during this time, and I didn't drink too much.
I have Beeminder to thank for all of that.
Beeminder is the accountability tool that helps me maintain my me-ness. It keeps me doing all the things I consider crucial to my happiness or health. I have never had trouble getting work accomplished but in the past I have struggled with caring for my own basic human needs during big projects. It turns out, I can do both!
Here are the goals that helped me most during the time leading up to the big event:
Running
This one is simple. I'm planning to run three marathons in 2018, so maintaining a solid mileage base is critical. This goal is automatically linked to my Garmin watch. I appreciate the data magically appearing on my graph with zero effort or thought on my part.
BK Fitness
This fitness goal helps me stay in shape while simultaneously spending quality time with my partner, Brad. We meditate, run, and do strength training sessions. Even if my days were really long, I knew that we would have a dedicated time to connect each day. And these fitness-based goals kept me energized, strong, at a healthy weight, and allowed me to begin marathon training during the last weeks leading up to the big event.
Gratitude
Keeping a gratitude journal maintains my focus on the positive things in my life. I used to do this online but now have a handy section in my Passion Planner that allows me to write out all the wonderful things that happen each week. (Can I say, I sure am passionate about my Passion Planner!?) Gratitude journaling is one of those things I've done off and on for years, but with Beeminder I am much more consistent.
Flossing
I am absolutely obsessive about dental hygiene but after a few 20 hour workdays, even I think it might be ok to skip the important step of flossing daily. Beeminder makes it so I stay on top of this. After reading Brent Yorgey's amazing blog post — especially "don't get rid of easy goals" — I am even more committed to keeping this goal. Thanks for sharing, Brent!
Alcohol
This is mostly for tracking rather than accountability but it's handy for reminding me to only have one drink or less. I do a lot of socializing and I live in Portland, Oregon, a town famous for its boozy bounty. This is an easy way to keep track of every alcoholic drink I have had. It really makes me aware of having even just one glass of wine which can lead to two which often leads to poor sleep and sluggish runs the next day.
PalPower
"Beeminder kept me aware that it was time to touch base with my support network"
This is my absolute favorite goal because it is time I spend with friends not working. This social time used to be the first thing I neglected when I was down to the wire on a deadline. Beeminder kept me aware that it was time to touch base with my support network. Runs, coffees, naked lady parties, walks, and lunches round out the list of friend activities I enjoyed during the past several months. Having this time to connect with my pals was such a huge boost to my overall happiness and satisfaction.
Here is photo evidence of said happiness and satisfaction: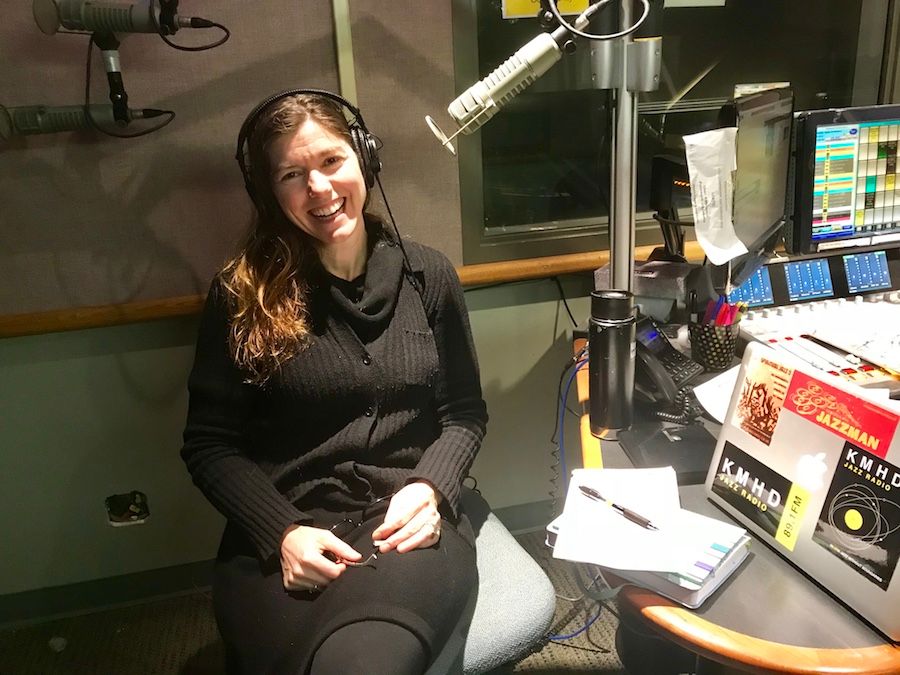 7am interview at KMHD — note my Passion Planner on the desk
Having all the jazz (and eating it too)
It might have been hard to stay on top of all these personal things, despite Beeminder's nagging, if I hadn't integrated them into my existing workflow alongside my work responsibilities. Now, I self-identify as the least tech-savvy Beeminder user, but much to my surprise, it was super easy to connect my Beeminder alerts to my Google calendar by using this handy Beeminder → Google calendar applet from IFTTT. My calendar alerts me when a Beeminder goal is in the red. This has been incredibly helpful when I am letting emails slide and I have all notifications silenced on my phone to focus on my work. Having that second layer of warning allowed me to note when I was going to have a beemergency and plan accordingly.
I wasn't perfect. Well, actually, I was practically perfect. The only time I derailed was because of a tracking problem. I had done the work but failed to get it logged. If I had taken the time, I could have replied to the "legit check" email and explained that I had done the task but forgotten to log it and the fine folks at Beeminder would have corrected the derailment. If you've never interacted with support, you might not realize just how friendly and helpful they are! (Trust me, they're all wonderful!) This time, I chose to take the derailment because I really don't mind paying a little to an app that clearly gives me so much value (and it was only $5).
Now that Beeminder helped me achieve my greatest professional accomplishment to date by prioritizing the things that make me a healthier, happier, and more productive Kim, I am ready to tackle my next project with confidence. Thanks Beeminder! I honestly could not have done it without you!